Leader for WordPress
WordPress plugin – less than a minute to install
Leader Plugin for WordPress sites
Effortless Installation: Our plug-and-play design ensures a one-minute installation.

No hassle, just results. Integrate Leader seamlessly into your WordPress site and witness a transformation in your advertising approach.
Ready to take your advertising game to the next level? Download the Leader Plugin now and embark on a journey of advertising mastery. We're here for any questions or guidance you may need. Let's make your advertising endeavors not just measurable but truly remarkable!
---
Unlock the Power of Your Website  with Leader Plugin for WordPress
Welcome to a new era of data-driven marketing excellence! The Leader Plugin for WordPress empowers you to seamlessly integrate, analyze, and elevate your advertising strategies to unprecedented heights.
Imagine a tool that not only connects your website's forms but also transforms your existing phone numbers into dynamic, trackable assets by replacing them with smart virtual numbers—all without the need for coding. It's a simple plug-and-play solution to get everything done.
The Leader Plugin is your gateway to a unified advertising ecosystem, where every click, form submission, phone call, and even WhatsApp engagement is enriched with detailed insights
Smart Analytics for Profitability
Uncover the gems in your advertising efforts. With Leader, you gain the ability to see the average income per source, audience, ad, keyword, and more. It's not just data; it's actionable intelligence for strategic decision-making.
Imagine a tool that not only connects your website's forms but also transforms your existing phone numbers into dynamic, trackable assets. The Leader Plugin is your gateway to a unified advertising ecosystem, where every click, form submission, and phone call is enriched with detailed insights.
Installation
How do I install a WordPress Plugin?
Click "New Plugin" in the WordPress Plugins tab.
Browse your computer and upload the Leader Plugin (leader-for-wp.zip) – click "Install now"
Click "Turn on Plugin"
Now Will show in a side menu of the WordPress menu Leader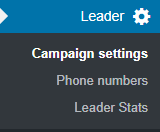 Now you will be able to see it and start work with Leader through the tab Leader Stats
Opening the tab allows you to view the Leader system within your WordPress site management interface.
---
Settings
Attaching forms – WordPress contact form: CF7 and Elementor type
Campaign Settings Tab
Filling in your Leader campaign details.
Here we will define the details of the campaign we want to transmit to. Complete the Campaign ID and the Campaign Pass in the Campaign Settings screen in Leader – click Save Options to receive a shortcode.
In Campaign Leader (in the Leader system) you will find the ID and password for the campaign – enter them in the designated place and click Save to receive a shortcode.

Form connection
"Contact form 7" forms
Copy and paste the shortcode (marked in green in the picture above), directly into the Contact Us form "Contact form 7" before Send (Submit) button.

Elementor Form type
Enter the shortcode in a new HTML field in the desired form. do not forget to Click on the dynamic icon and select the Shortcode option

the advanced settings of each field, make sure that the ID of the field is identical to the field's name in Leader, where you want to transmit to.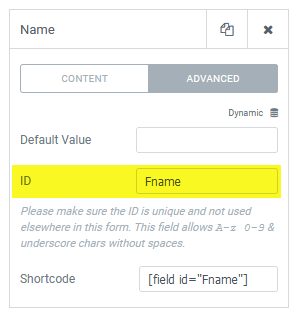 Note that the form transmits values (input name) according to the values set up in the Leader campaign. (It is possible to see basic fields in Campaign settings in the Leader system). For example: Name: Fname, Phone: Phone, Email: Email.
WordPress system requirements:
The Leader Plugin requires an installation of Contact form 7 or Elementor forms, the most common forms for WordPress systems.
Attaching phone numbers to the site – Phone numbers tab
Here we will set the phone number that appears on the site – Base number to replace
and the measurement numbers that will replace it according to the different traffic sources – The Plugin will find the existing number and replace it in the user's display so that the measurement number will be displayed without having to edit the site pages.
We will set a traffic source for every number – utm / domain
For organic traffic measurement– We will fill in the domain name, for example google.com
For paid search traffic measurement– For example, a Google Ads campaign will be marked as google_ads and then a link will be added with the UTM that we wrote in Google Ads campaign. For more information on UTM-coded links, click here
It is also possible to set a general measurement number that will be presented for any other scenario – Number for direct or unknown referrer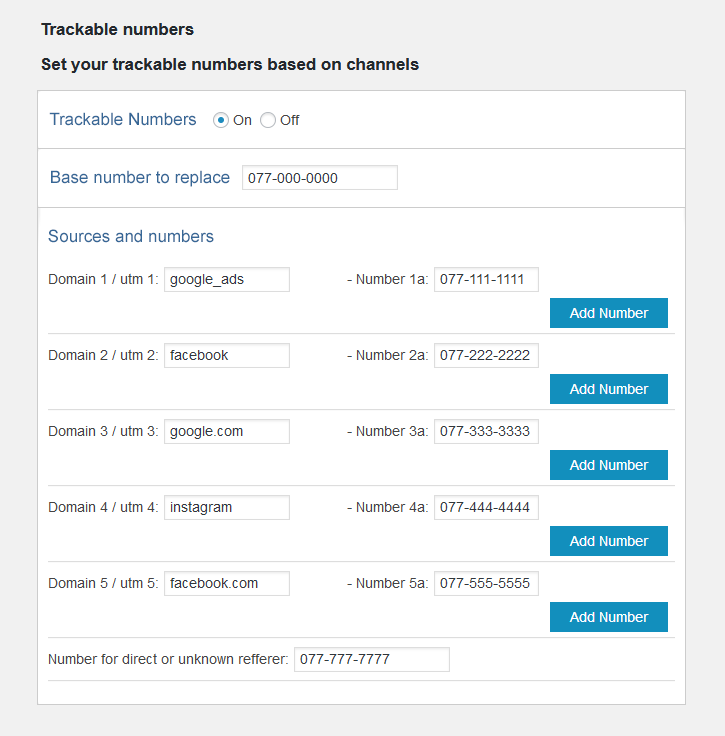 Example of full details
In this example, you can see the definitions of measurable numbers for Google Sponsored, Google Organic, Facebook Sponsored and Facebook Organic. In addition, a general number for other sources.
Important sources will receive an assignment number so that the traffic source can be known with 100% certainty, even if the caller saved the number and got in contact a few days later. For the rest of the sources, only one measurable number can be set.